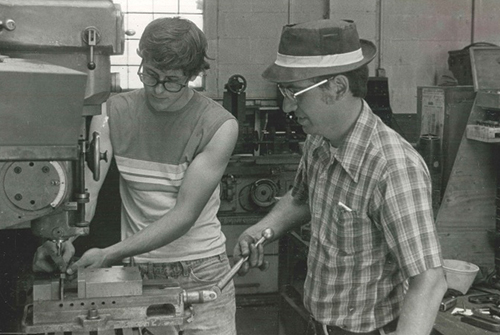 Glen Vanden Langenberg, founder and President of Seymour Machine, Inc., has been involved with the machining industry for over three decades. Glen has earned his degree as a Machine Tool Operator, been certified by the State of Wisconsin to be a Journeyman Machinist, and has worked with some of the areas largest manufacturers.
Seymour Machine, Inc. hasn't always been located in Seymour, Wisconsin. It actually started in DePere, WI, in Glen's two-stall garage as Glen's Welding. From 1976-1986 he served local farmers, local customers, and minimal area businesses.
It was in 1986 when Glen was eager to improve the quality of his work, to better meet his customer's needs and to take on more challenges. It was then when he decided to purchase the current building Seymour Machine, Inc is located in.
It wasn't long after that, the business continued to grow and Seymour Machine was running out of workspace. Along with an increase in different types of machines, a broader area of customers, and the need for bigger and better services, Seymour Machine had to increase the square footage. Along with doubling the previous square footage came CNC Machining Centers and newer, bigger, and faster machines.
As time goes by, competition continues to get more and more competitive. As this happens, Seymour Machine has to figure out a way to obtain current and new customers. One of the things added to increase a sense of diversity was a Flow Water-jet. This Flow water-jet has a table 6′ x 12′ that has the capabilities to cut material up to 6 inches thick! Quality control too played a huge factor. An inspection area was created and updated with several different computerized and digital gages to make sure the parts are in tolerance.
Since founded in 1986, Seymour Machine, Inc has grown and has high expectations to continue to grow. The satisfaction of the customer is their #1. priority, A happy customer that receives good, quality parts, will keep coming back, and that is what Seymour builds on.